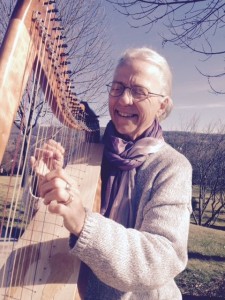 "I have never heard anyone at Quincy Village say 'no' when it comes to the personal growth of an individual … I am allowed to recreate myself, to nurture my interests, to discover new lifestyles … to grow, achieve, learn, share, educate, create, invent and enjoy."
Lynda Kuckenbrod, a resident of Quincy Village (a Masterpiece Living Partner), submitted this beautiful letter on behalf of herself and her husband, Roger. After Lynda participated in the Masterpiece Living Lifestyle Review, she decided to be more proactive about her health, and lost 40 lbs. as a result! She's also created a successful, international bedside music-training program, loves playing the harp for residents and leading them through crystal bowl sessions.
Since May is Older Americans Month, we particularly wanted to share more of her inspirational letter as an example of successful aging at its best!
Roger and I have been living here at Quincy for three years. Wow! That was fast! So much has happened. We spend every single morning out on our new enclosed porch with our coffee watching the sun come up … or watching it rain … or watching it snow.

We spend happy hours tending our garden out front and out back. We spend time with our neighbors chatting, helping, sharing too much pot roast that we made, receiving a portion of too much veggie soup that they made and drinking wine when the '4 o'clock' call is made.

For me, it has been particularly life changing. I have lost over 40 pounds and changed my entire life-style … for the better. I have created an international bedside music-training program. I have walked the length of India since last May (I got my 'India badge' from my tracking device the other day). I have become 'one' with the fairies as my fairy garden grows … it has even spread to the creek where the wonderful maintenance guys have created a fairy path! (Fairy gardening is really contagious, eh?)

I just wanted to thank everyone at Quincy for the opportunity to live here. How we got here is a mystery. The divine universe was certainly guiding us. We are not rich monetarily, but we are rich spiritually … especially in the last three years.

Keep up the good work. Not only to upper management but also to the folks that do the every day tasks that touch our lives every hour. The food is great. The fountain is gorgeous. The smiles and waves as we pass by any employee are priceless. And the muskrats, ducks, herons, raspberries and everything else along the creek are the added bonus that makes the Quincy campus the star of PSL.

Love to all. Thanks for taking such good care of us.

~Lynda and Roger from Quincy Village