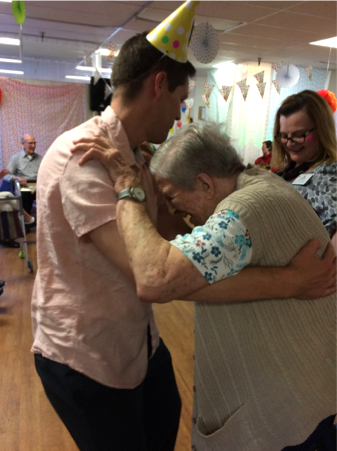 "Could I have this dance," Ken Ray, fitness coordinator at Judson Park, asked resident Ann Toth. The community was hosting a dance as part of Masterpiece Living's Movement Matters campaign.
"I'd love to," she answered. "But I can't dance anymore." After Ann's husband died, she was unable to go anywhere that had big band music playing … it hurt too much. Now, years later, Ann felt herself swaying to the music and tapping her foot from the sidelines; but there was still one problem … she didn't feel comfortable in her ability to walk, let alone dance. For the past year, Ann has been working diligently on improving her balance using NU step and a walking aid.
"I've seen you in the hallways working hard. I think you can do it," Ken replied. "You can use my shoulders for support." She agreed, and with each step, her balance grew stronger, and before she knew it, she'd danced through the entire song. "I loved watching her face go from uncertainty to accomplishment to enjoyment and pride," Ken told the Mosaic.
"If I could do this every day, I'd be strong enough in no time at all," Ann said. "I felt great!"
A short time later, Ann beckoned Ken to come back over. He thought she was going to ask for another dance. Instead she whispered, "My friend Peggy can't see and is a little afraid to go out there, but she used to love to dance. I know she would love it if someone would Waltz with her." So, Peggy and Ken graced the dance floor.
"There are few things I find more rewarding in my job than watching people accomplish their goals" Ken smiled. "I didn't get to sit down the entire night. I love Judson Park!"
Ann, Peggy and Ken are Livin' It!