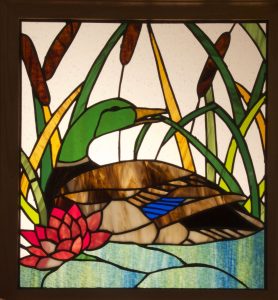 Bob and Maureen Maidhof may be new to Quincy Village, but that didn`t stop this power couple of 42 years from jumping in feet first. Bob, a former food services director for the Marriot and Maureen, a former teacher, each found a new calling with their move this past April.
Quincy Village is a Masterpiece Living Community that encourages creative new ideas and emboldens its residents to try new things. So when Bob, explained that he had worktables, tools and an inventory of glass from the glass shop he used to have set up in his house, he was invited to convert one of the Village`s community rooms into a new stained glass workshop. Now, in addition to serving as an ambassador for Quincy Village, Bob is using his 25 years of experience as a stained glass hobbyist to teach others. He leads formal classes twice a month and is in the shop daily for people who would like to continue to work on their own glass projects.
A stained glass project will take each person varied amounts of time to complete depending on their dedication and enthusiasm, and Bob`s happy to guide residents from start-to-finish with choosing and cutting a pattern, tracing the pattern on the glass, cutting and grinding glass pieces, foiling the pieces and soldering them together, and washing them. There is also patina to be applied before the piece is polished.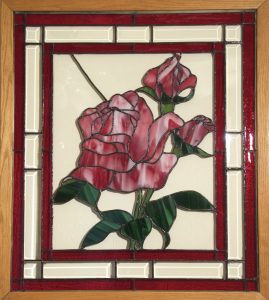 "You don`t need to be an artist or have experience to participate in a workshop," Bob`s wife, Maureen, told us. "Beginners may need guidance in putting colors together, but there`s always someone willing to help." It was Maureen who was the first to learn how to create stained glass art, and she – in turn – taught her husband. However, much of her time recently is spent volunteering in Quincy Village`s Healthcare Services, assisting with organizing files, distributing pamphlets, and gathering important health resources for those who may need follow-up care after they leave healthcare and return home. "I`ve never done anything like this before," Maureen said. "But, it`s never too late to learn something new."
When Bob and Maureen aren`t volunteering, they can be found taking hikes together, swimming or spending a quiet afternoon with Bob reading or researching on the computer and Maureen knitting. Both have been very proactive in creating new opportunities, finding meaning in work, being socially engaged and in using their talents to support others – all of which are in alignment with the Masterpiece Culture.
Ryan Knisely, Sales Director of Quincy Village, oversees the ambassador program in which Bob is involved, and told us that if you`re looking for Bob, he can be seen throughout the community wearing his trademark wide-brimmed hat. "He`s a passionate person about life in general," Ryan said. "He is respectful and a good listener … very pleasant to be around." Ryan gave a little insight into Bob`s next endeavor. He`ll be teaming up with Quincy Village`s head chef for an autumn-inspired cooking demonstration in September. We are certainly looking forward to that!