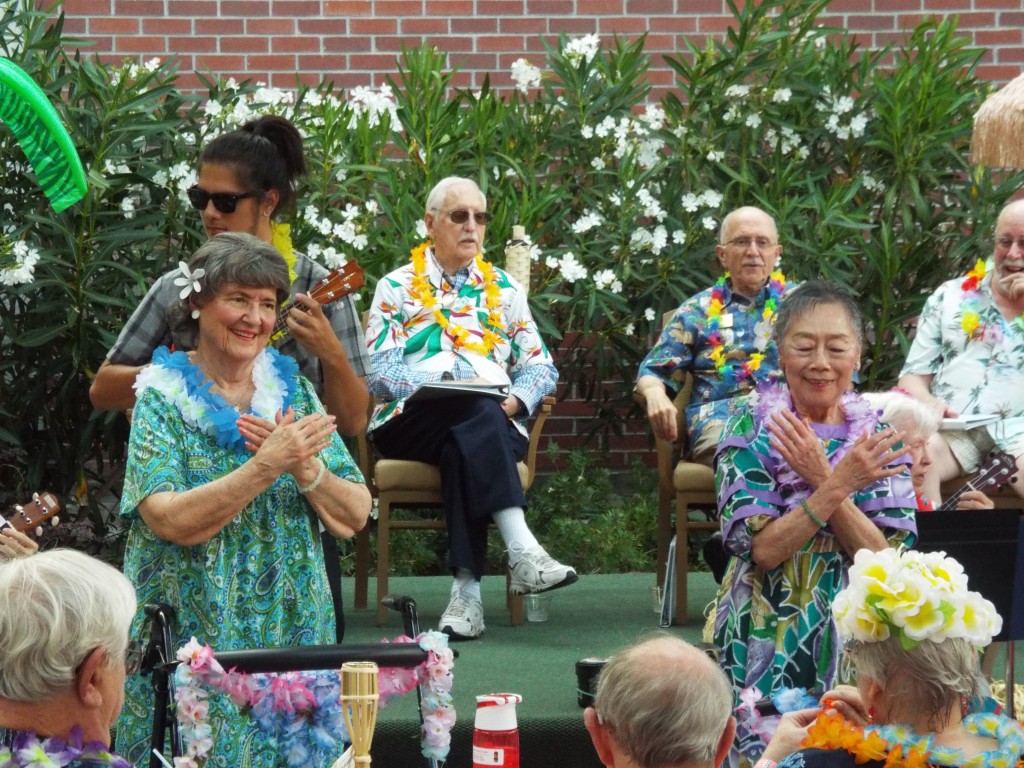 By: Penny Vittoria (Successful Aging Coach, Acacia Creek)
When you walk through Acacia Creek Retirement Community, it feels different from other communities. One visitor remarked, "I think my mom would live longer if she moved here." What she felt is what most people feel at Acacia Creek, an aliveness that comes from people who are engaged in what they love to do, people who want to live and work there, people who respect and value each other. This is what a culture of successful aging feels like. It comes from both residents and team members, its qualities: empowerment, engagement, growth and resilience were built into the culture of Acacia Creek.
It all started with the marketing team giving the book Successful Aging to prospective residents even before the building was opened. This sent the message this isn't a traditional retirement community focused on entertainment and inevitable decline. The vision of the board of directors was to create a community where 60+ adults could thrive. The leadership team made a commitment to create an exceptional community where people could come and grow, not just grow old. This focus on successful aging solidified when Acacia Creek partnered with Masterpiece Living. Now that all 149 apartments are occupied, the leadership team has set its sights on becoming the first Center for Successful Aging in Northern California – a designation they hope to earn from Masterpiece Living at the end of this year.
Since it opened in March 2010, the mission of Acacia Creek has been about creating opportunities for growth in the four components of wellness: social, intellectual, physical and spiritual. Growth is possible when people are engaging in a lifestyle of active, healthy and meaningful living. The team believes successful aging must be incorporated into every aspect of the community in order to provide outstanding customer service. They recognize that a community can't have practices and policies that interfere with the empowerment of residents. Residents should not be denied opportunities to grow or have fulfillment in order to make things easier for the business or the people working there.
This philosophy was developed when the first group of thirty residents moved in. The residents did what they had been doing all their lives … they became involved. Together with the leadership team they figured out what needed to be done, and then people pitched in, helping where it was needed. Residents where happy to share their knowledge and skills, and because of this volunteerism, a full calendar of programs was developed, along with numerous committees and – most importantly – fellowship. Residents became an integral part of daily operations, volunteering for a variety of jobs: Running the bar, campus photographer, chorus leader, water aerobics instructor, bridge instructor, Sittercise leader, genealogy group leader, memoir writing instructor, aerobics teacher, and line dance instructor. Over the past six years, this list has grown each month as new residents move in and start new programs.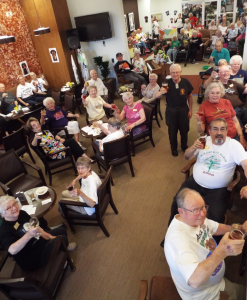 Residents move in with the intention of being part of a thriving community. When you are here you don't "feel like this is a home for old people," as one new resident commented. Even though the average resident age is 85, residents of all ages are active and engaged in a variety of interests and ar
e also discovering new interests. There is no expiration date for being involved and learning something new. Some residents say that it feels more like being on a cruise ship than a retirement community. This is because the people who live here and work here are not bored. There are plenty of purposeful programs and leisure pursuits offered in all areas of wellness (social, intellectual, spiritual and physical) that are fun and meaningful.
Currently, there are thirty different educational programs led by residents, team members, contracted employees and volunteers. These programs are focused on physical, spiritual and intellectual wellness. There are twenty-four different resident-run games and other social opportunities on the current calendar. The resident committees have grown to thirteen. The newest committee is focused on creating more opportunities for lifelong learning. The outing committee organizes four trips a month. The head of the committee is a walking tour docent in San Francisco. She started taking residents on those outings herself, using public transit. Now, she oversees most of the outings. Some of the more adventurous trips have been ziplining through the redwood trees, Segway riding on Angel Island, paragliding off the cliffs at the ocean and walking across the Golden Gate Bridge.
When people move to Acacia Creek, they are invited to bring their lives with them, meaning they are asked to share their skills, hobbies and passions. By doing this they have the opportunity to continue to create their lives and contribute to the community culture. This can bring new purpose to a person's life. Giving a person the opportunity to use their valuable knowledge in the last decades of their life is empowering. This can only be achieved when a community values residents as elders with wisdom, knowledge, and a lifetime of experience. Because of the leadership team's willingness to continually support resident leadership, Acacia Creek has become a successful aging community where people come to grow and live their best life.
To sustain this culture, all team members are trained to recognize that every resident has value beyond what you see on the surface. There is an expectation that it is everyone's job to support residents in engaging with the community at the level the resident desires, thus supporting their successful aging journey. It is understood that successful aging isn't just for residents. Team members are also encouraged to take inventory of their lifestyle choices and how they want to grow and change both professionally and personally. Team members are able to participate in programing and share their skills and hobbies. These top down practices sustain the feeling of aliveness in the community, allowing Acacia Creek to stay on the cutting edge of 60+ living focused on resident empowerment.
Not all residents have the desire to be community leaders, but by living in a community with people who are visibly active and volunteering, those who live here benefit. They are more likely to be social and actively participate in programing. Residents are the best motivators of other residents. Acacia Creek has a collection of successful aging stories from residents that are publicly shared. Seeing these testimonials every day is inspiring. A resident with a Parkinson's diagnosis shared in depth how exercise supports his physical wellness, enhances his brain function and "fights negative moods." You can't help but be motivated when someone shares so personally. Many of these testimonials speak to the importance of resilience and doing what you can with what you currently have. A resident who is 90+ started the chorus six years ago. She was ready to step down from that leadership position this year, so she found a resident to take over the chorus. She is now in the ukulele group and has started a "Listening to Music" group. This is how resilient people live. They take stock their lives and make choices to support how they want to live.
A frequent comment heard from residents was, "I wish I didn't wait so long to move here." There was a fear of the old paternalistic model of retirement living. Once people experience the successful aging culture of Acacia Creek, they understand that our new model of 60+ living is focused on empowerment, engagement, growth and resilience. They realize their lives will improve by living in a community where they can make meaningful social connections, have access to purposeful programing, engage in hobbies they enjoy, and use their skills and knowledge. Moving here isn't the end of the road; it's the beginning of a new adventure with new friends.