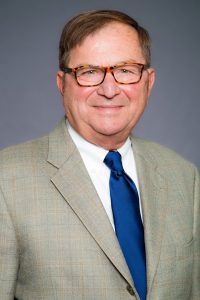 The Association to Advance Collegiate Schools of Business (AACSB) is an association of more than 1,450 educational institutions, businesses, and other organizations in 90 countries and territories. Their mission is to advance quality management education worldwide through accreditation, thought leadership, and value-added services.
At their 2015 Annual Accreditation Conference, AACSB marked their 100th anniversary by recognizing the work of 100 alumni and their schools. Chairman and CEO of Masterpiece Living, and Clark University trustee and alumnus, Lawrence L. Landry, was among the recipients of their prestigious AACSB Influential Leader Award. Award recipients were recognized for their meaningful contributions to society across all facets of commerce—whether they operate within large corporations, small businesses, or the nonprofit sector.
"Throughout his professional career, Larry has applied his business skills and financial acumen to support nonprofit organizations and organizations that are critical to human development and wellbeing (universities, foundations, and senior living facilities)," Clark University Dean of the Graduate School of Management, Catherine Usoff, said.
Other notable award winners included: Colin Powell, (Former U.S. Secretary of State; Former Chairman Joint Chiefs of Staff; Retired 4-Star General of the U.S. Army, Founding Chairman), David Williams (CEO of Make-A-Wish America; Former COO of Habitat for Humanity), Sam Walton (founder of Walmart and Sam's Club), Paul Allison (CEO of Raymond James Ltd.) and Elisabet de los Pinos (Founder and CEO of Aura Biosciences). The influential leaders awarded represent more than 20 industry sectors across 21 countries.
"I'm honored to receive the AACSB Influential Leader Award and thankful to Clark University and others for preparing me to challenge convention and to want to make a difference," Landry said. "It was the Clark experience that guided me to become entrepreneurial and create initiatives like Masterpiece Living to positively impact society." 
For the complete list of award recipients, CLICK HERE. To read AACSB's official announcement, CLICK HERE.