By: Dr. Roger Landry, MD, MPH
"At its best, each Masterpiece Living community is a village, a culture of that quality. That is what you are creating and have come together to celebrate. And I am happy to have shared your celebration." ~ Dr. Robert Kahn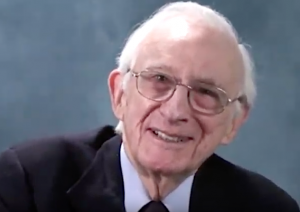 The Masterpiece Living Team is most saddened at the recent passing of our dear colleague, sage, and mentor, Dr. Robert Kahn at age 100 … a role model for successful aging to the very end.
Dr. Kahn had a long, productive and illustrious career with the University of Michigan's Institute for Social Research. He earned many awards, both national and international.
For those of us in Masterpiece Living, however, it was personal with Bob. He had been a codirector of the famous MacArthur Foundation Study on Aging and coauthor of the book Successful Aging. When Larry Landry asked him to guide us in the development of a way to apply the findings of the MacArthur Study, he readily agreed, because, even at the age of 80, he had a vision of changing the aging experience for all. His guidance ultimately led to Masterpiece Living, and he continued to be a veritable lighthouse to the Movement. Over the last two decades, he helped us navigate through difficult waters.
Bob generously gave to all who came to him for assistance. I am still overwhelmed and honored that he agreed to write the Foreword for my book, Live Long, Die Short.
Bob was a gentle soul … a "humanist" he called himself, with a respect and deep compassion for all. He was soft spoken but a fierce advocate and role model about changing the stereotype that aging was only about decline. An exceptional writer, Bob was an even more powerful speaker … articulate and precise.
At our very first Masterpiece Living Lyceum, Bob quoted Albert Einstein saying, "There are only two ways to live your life. One is as though nothing is a miracle. The other is as though everything is a miracle." Thank you, Bob for being a miracle to us all.