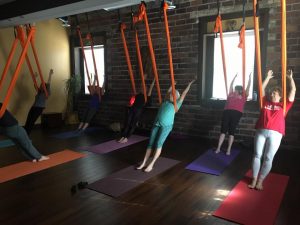 Our friends at the Four Pointes – Center for Successful Aging stepped out of their comfort zones and tried aerial yoga for the first time. The initiative was part of Masterpiece Living's Living It! campaign, which challenges participants to try new opportunities in the social, intellectual, physical and spiritual components of successful aging.
Four Pointes Wellness Director, Jessie Riley, told us: "It was an incredible hour filled with inspiration and growth! One of the ladies mentioned to me before the class began 'When I saw this opportunity I decided I wanted to try something I've never done before!'. The instructor did a wonderful job encouraging [participants] to let go of fear and move forward towards growth. At the end of the class she asked 'who are you now after this experience, and where they would you to go from here?' Living It! has been a smashing success this year!"
CLICK HERE to view more photos from their experience.