By: Dr. Roger Landry, MD, MPH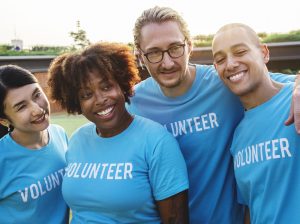 There is a scene in the movie The Bucket List where Morgan Freeman tells Jack Nicholson that in ancient Egypt, in order to enter heaven a person is asked two questions:  
1. Have you found joy in your life? 
2. Has your life brought joy to others? 
In conversations with hundreds of older adults, I have found what brings meaning and purpose to lives consistently involves other living things, be it humans, animals, plants or the environment as a whole. It is this improving of the lives of others or the planet that resonates with people. Dr. Albert Schweitzer told us, "I don't know what your destiny will be, but one thing I know: the only ones among you who will be really happy are those who have sought and found how to serve." 
In a 2007 comprehensive review of the research on the health benefits of volunteering, even as little as two hours a week was found to lower mortality rates, improve functional ability and lower rates of depression later in life than those who did not volunteer. 
Purpose is not stagnant. It is not something we do once and then are done with it. It is an ongoing process — our reason for getting out of bed in the morning. And, as Mark Gerzon tells us in his book Coming Into Our Own, "If it feels safe, it's probably not the right path, but if it scares you, it probably is." 
This week, consider: Have you found joy in your life? Has your life brought joy to others? 
SaveSave