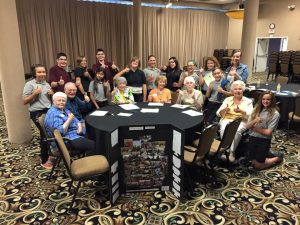 Young scholars from the Odyssey Preparatory Academy (grades 5 through 8) sat with wide-eyed fascination as one resident from Grandview Terrace recounted his harrowing story of survival that fateful day during his time in the Navy several decades ago. This was one of many powerful stories shared that day in what turned out to be the beginning of a yearlong, intergenerational social, and cultural event (along with the beginning of some lifelong friendships!).
Grandview Terrace (a Masterpiece Living partner) teamed up with the Odyssey Preparatory Academy for its first ever "Adopt a Grandparent/Student" initiative at the suggestion of one of Odyssey's teachers, Laura Harrel. Nearly 30 scholars and residents met each month to spend time getting to know one another. There were "find someone who…" games and ice cream socials. There was "Interview a Grandparent Day" where scholars were asked to create a Words of Wisdom book. They took part in singing Frank Sinatra tunes and swing dancing at their karaoke party last winter, fo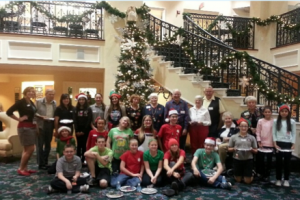 llowed by a gardening party to plant flowers in the spring. Residents and scholars even joined forces to compete for the gold medal in their summer Olympics.
Hilda Abarca, Life Enrichment Manager at Grandview Terrace, a Sun Health Senior Living Community, told us, "This new generation got to see first-hand what successful aging looks like; to learn that life has consequences and that the choices they make today matter; and the value of human experience. The residents enjoyed it so much, they're asking me every day when school is back in session!"
Intergenerational social connections are an essential component to successful aging. Read more about the benefits of intergenerational programming in Dr. Roger Landry's article, "The Kid Connection: The Key To Better Health and Aging."