Five Ways to Know if Your Community is Successful Aging-Friendly… 
By: Dr. Roger Landry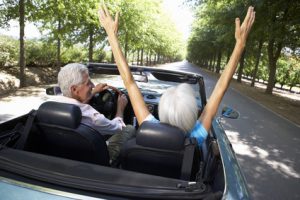 Over the last couple of decades, we've learned that lifestyle is the heavy hitter when it comes to how we age. Does where you live support your aging-friendly lifestyle? Does it encourage and allow you to be more active? Does is foster the development of strong social connections, to learn more, to eat like a Mediterranean, to get out into nature more and to be less stressed? Does it fill you with a powerful "can't-wait-to-get-out-of-bed-in-the-morning" purpose?
These are the keys to being healthier and to aging more successfully. Unfortunately, as we age we tend to find ourselves in environments where it's more about enduring life than grabbing it by the horns; situations where we sit a lot, get more isolated, resign ourselves to the fact that at best, we're going to decline slower than the other guy. These "unenlightened" places effectively put blinders on us so that we fail to realize we can continue to grow. In fact, we must grow, as long as we have a pulse. Grow or decline … those are our choices.
"Where Can I Continue to Grow?"
Research tells us that we tend to reflect the values and norms of those around us: smokers with smokers, obese people with obese people, negative people with Debbie Downers. When we're young, we tend to have more choices, but what about as we age? Where can we live that will make it more likely we'll age successfully, where were more likely to be around like-minded people who are active and fully engaged with life?
In 2014, Masterpiece Living ushered in an extraordinary new concept when it introduced the Center for Successful Aging model. Masterpiece Living, itself, was born as a direct result of a 10-year study put forth by the MacArthur Foundation that determined that 70% of physical aging and approximately 50% of mental aging is determined by our lifestyle choices, and has spent more than 15 years bringing this research to life through painstaking data tracking, and by working with industry leaders and experts in the aging field.
In order to create a way for retirement communities to integrate these successful aging best practices, Masterpiece Living developed a Center for Successful Aging. Retirement communities that have become Centers for Successful aging are places that have met rigorous criteria in six major areas: Culture, leadership, employee and resident engagement, purposeful programming, and outreach.
Given the opportunity to know what your lifestyle risks are (whether physical, social, intellectual or spiritual), to have access to work with a coach, and to be in an environment that solidly believes that continued growth is possible no matter what the age or challenges … given that opportunity, people will grow and age successfully.
What Does a Center for Successful Aging Look Like? 
Are you considering a retirement community for you or your parents? Trying to determine if your senior living community makes the cut? Here's what it MUST have if you're looking for a better aging experience:
Its culture promotes continued growth like a university … you expect to learn, to continue to grow, physically, intellectually, socially and spiritually. You don't live there just for comfort and security, or to just be until the inevitable decline. You live there to build resilience and compress the time that you are sick and impaired – to essentially, live long and die short.
Easy to use measurement and feedback tools are readily available. The means to track your growth and progress toward reducing your risks and improving in all components of healthy aging. This is done through lifestyle and mobility reviews, data tracking, and intervention coaching in response to the information that has been collected and analyzed.
Successful aging coaching is a key benefit of living in the community. Coaching that is about assisting and guiding someone along the path they choose to take in order to lower their risks for decline of loss of independence. This culture is apparent within all areas of an organization, and while key lifestyle coordinators are an integral part of this process, staff-wide training is essential.
Purposeful programming is an integral part of the culture. In other words, the ready availability of events, courses, or other resources which are specifically focused on reducing YOUR risks and making successful aging much more likely. Examples of this might include campaigns that emphasize a specific component of successful aging, such as stress management or Walk to Wellness® events for greater physical health and emotional wellbeing, or cognitive training challenges for better memory and overall brain health.
All of the above exists no matter what challenges or impairments you face. A Center for Successful Aging adapts to all levels of living and all circumstances. This means that regardless of whether a resident is independent, in assisted living, or in memory care, they can continue to learn new things, to grow and to experience life to the fullest.
This is the kind of place where successful aging – at any age or life circumstance – is possible.