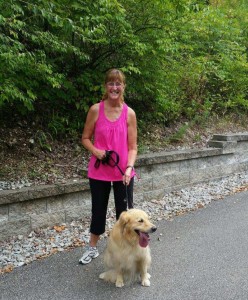 If only everyone had a Golden Retriever like CC as a personal trainer to ensure we never missed a workout!
We recently spoke with Joan Devine, Director of Performance Improvement at Lutheran Senior Services who is supporting the launches of Masterpiece Living at Heisinger Bluffs, Merdian Village and Breeze Park. Joan wanted to share her personal successful aging endeavor with us, which includes walking a minimum of 10,000 steps a day and strength training twice a week. "CC and I now take our morning walks together," Joan told us. "And if ever I want to skip a day, I get this forlorn look from her and have to get up and go!"
The effort has paid off, and Joan has lost 25 lbs. since Lyceum 2015, just in time for her 60th birthday. "Last April was the first time I'd attended the Masterpiece Living Lyceum," she said. "It was an invigorating atmosphere, and I saw people all around me who were Living It! For me, that was the exclamation point at the end of a sentence."
At Lutheran Senior Services, Joan works with the communities as they guide residents through their own person-directed journey, and with the integration of MPL at three locations, she is able to play a part in supporting their successful aging goals.
"What really resonated with me at the Lyceum was the term 'still,' like when people say, 'she still runs a marathon even at her age' or 'he still walks five miles a day at his age.' For many of us, there is no 'still' because we're doing new things every day, and age has nothing to do with it." Case in point – Joan participated in her first half marathon at age 50, and is proud of the changes she's made to her diet and exercise plan, and how they've positively impacted her health.
Thank you, Joan, for showing us that it's never too late to try something new or to begin aging successfully!