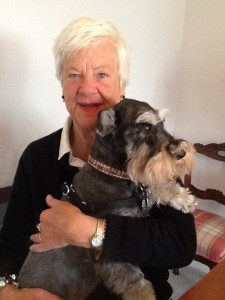 Inspired by a presentation that Dr. David Gobble gave at The Renaissance (a Masterpiece Living partner), resident Julie Worley decided to accept his "70% challenge." Several years later and 90 pounds lighter, Julie shared with us her journey to wellness…
When I moved to The Renaissance in April, 2010, the good news was that the food was wonderful; the bad news was that I arrived nearly 100 pounds overweight. I soon learned that the principal way to meet people and make new friends here was over the dinner table, and in four months I had gained another fifteen pounds. I was faced with the stark fact that I could either go on eating five delicious courses every evening and become an even fatter old lady, or find some way to lose weight and become a slimmer old lady. In front of me every day I saw examples of each, and what I saw made the healthy choice obviously the better choice. But I thought that surely it was too late to change my ways.
In October, Dr. David Gobble came to the Ren to speak, and he presented Masterpiece Living data on healthy aging. That all of us will age, he explained, is obvious. However, there are measurable lifestyle factors which are predictors as to how we age. These will contribute to our leading a longer life with a shorter period of illness, leading to death, or a shorter life with a longer period of illness, leading to death. And, most amazing, through the decisions we make, we have control over 70% of the outcome. Of course, fitness is one predictor, and weight is a major factor in fitness. What most amazed me was the fact that we had a choice in our future, and we had responsibility for which it would be! This put the responsibility squarely in my lap. But did I want to change badly enough?
Some weeks later, on Veterans' Day, I attended a wonderful party celebrating the opening of the Renaissance Dog Park; what an occasion it was, culminating with a photo-op of us with our darlings and Santa Claus. My schnauzer, Wilson, and I had our picture taken, but my photo was a shocker – Santa and Wilson looked handsome, but I was fatter than Santa! And, I had the motivation I was looking for.
The day after Thanksgiving, 2010, I began a new way of life based on a new lifestyle rather than a new diet. It involves eating healthy food in reasonable quantities. I have now lost and kept off almost 90 pounds over a period of approximately three years. My blood pressure and cholesterol numbers have plummeted, and my energy level and quality of life have soared. Greatest of all is the satisfaction I have experienced in accepting the 70% challenge. And guess what? I have continued to eat in the dining room occasionally, I still enjoy the food, and I have met wonderful friends there.
~Julie Worley