By Danielle Palli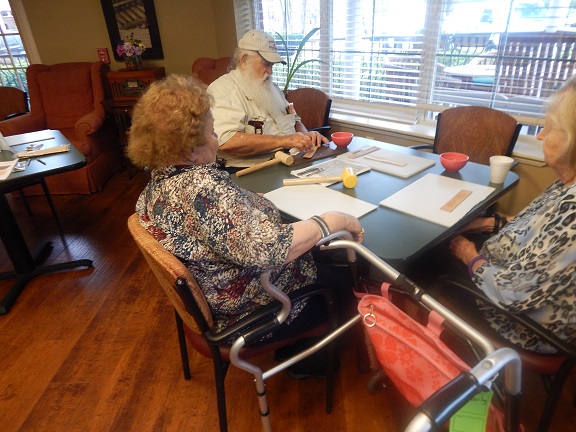 "Don't judge a book by its cover," Lifestyle Director, Vivian Dunn told us. In this instance, she's referring to Howard Coleman, a resident at the Buckingham at Houston (a Masterpiece Living partner and Certified Center for Successful Aging). At first glance, Howard's long white hair and beard, coupled with his serious expression when he is leatherworking, was intimidating to some. But after a group of "elves" at the Buckingham asked Howard to play Santa Claus at their annual Halloween Parade, it was soon discovered that he was as jolly as St. Nick himself.
Extremely social, Howard goes out of his way to meet new people and encourage residents to take up a hobby and learn something new. A Jack of all Trades, he has a long history of saying, "Well, yeah! I can do that!" whenever a new task is placed before him. "I've done it all," he told the Mosaic. "I've worked in the rice fields, welded a BBQ pit, operated heavy machinery, helped build a house. You name it; I've probably done it." A former Navy veteran during the Korean War, he later went on to work in the food services industry before retiring. Today, he teaches leatherworking workshops at the Buckingham to those in skilled nursing and assisted living, and there are plans to expand this program and open it up to all levels of living. The workshop was inspired by Masterpiece Living's Living It! campaign, which challenges people to try new activities within the four components of successful aging (social, intellectual, physical and spiritual).
"He's a great person and we're lucky to have him," Vivian said. Not shy by any means, nor letting a wheelchair slow him down, Howard has no qualms about visiting residents in independent living, memory support, skilled nursing and assisted living. And, if he meets a person who seems unhappy, Howard takes one-on-one time to show compassion, listen and – hopefully – bring them a little cheer.
"I like teaching leatherworking because it's good for people to work with their hands," Howard told us. With research that links physical movement to improved mobility, cognitive health and stress reduction, we agree. So far, his students have learned how to design custom bookmarks and will move on to more advanced projects such as creating a coin purse or wallet.
Following his own advice about being a lifelong learner, he enjoys painting class, is described as a master puzzler, and participates in most Buckingham events. His dream is to travel to Germany and Ireland, among other places.
"Be hands on and get interested," he admonishes. His one wish for each person he meets is that they simply enjoy life. Thank you, Howard Coleman, for showing us what "Living It!" is all about.