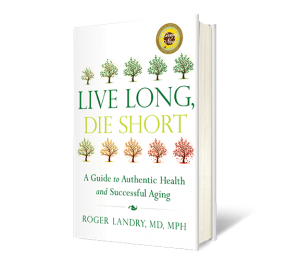 Dr. Roger Landry's book, Live Long, Die Short: A Guide to Authentic Health and Successful Aging was voted one of the best gifts to give your significant other this holiday season.
In the article, Katherine Stewart, a retired social worker writes: "My husband and I are not very materialistic and like to get one another something we might need. Last year he bought me several new turtlenecks, which I really loved. At 73 years old, aging gracefully is on my mind. This year Roger Landry's Live Long Die Short is on my wish list."
Live Long, Die Short is a guide for the reader of any age to rediscover the healthy lifestyle lessons of ancestors, to evaluate their own lifestyle, and to follow the roadmap of this knowledge to better health, robust resilience, and a more successful aging experience.
If you haven't ordered your copy yet, it is available for purchase in our online store.