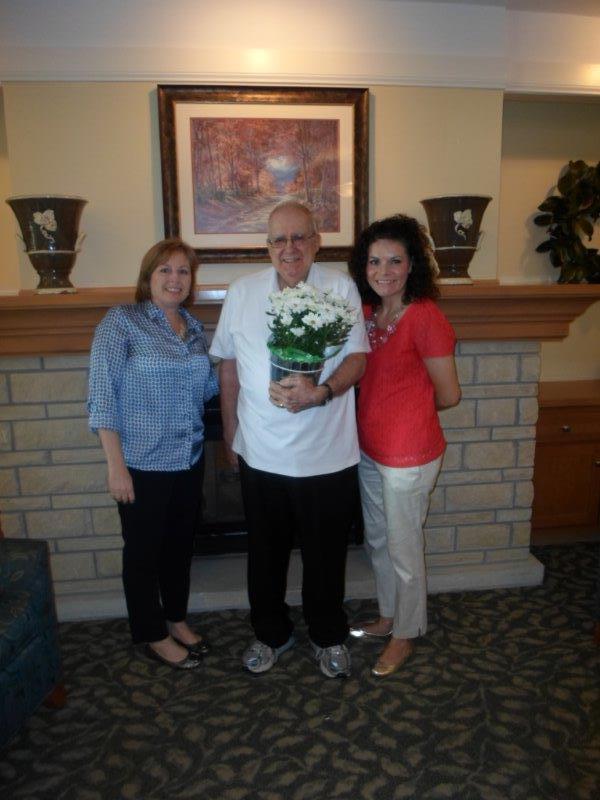 The Masterpiece Living (MPL) team is  pleased to announce that Catholic Care Center (a Via Christi Health community) resident, Eugene Hock, was honored with the Faye McCoy Positive Aging Award from LeadingAge Kansas for his promotion and exemplification of a successful aging lifestyle within his older adult community and the greater Wichita area. The award was presented to Hock as part of the Association's Quality First Awards of Excellence program during their Policy and Leadership Conference on Sept. 27, 2016 in Junction City, KS.
Eugene Hock and his wife, Rometta, moved into Catholic Care Center (a Masterpiece Living partner) when Rometta began being affected by early stages of Alzheimer's. Rometta passed away earlier this year, and instead of doing what so many grief-stricken spouses would do, he turned outward instead of retreating inward and becoming isolated. Recognizing the need to remain socially connected, he retains his position as a MPL Resident Ambassador, volunteers as a coach for residents seeking change in their lives, and uses his 25 plus years of computer experience to offer tech support to anyone who asks. He is also the founder and leader of "Silver Notes," a community musical group, and remains active within his church.
Inspired by MPL president, Dr. Roger Landry's award-winning book, Live Long, Die Short: A Guide to Authentic Health and Successful Aging, Hock began applying the ten tips suggested by Landry, eating healthier and becoming more physically active. As former engineer for Boeing and TRW Aerospace Systems, Hock continues to use his experience to volunteer at the St. Thomas Aquinas Catholic School when middle school students are preparing for the Science Olympiad.
"Mr. Hock could easily have said that his plate was too full with the oversight of caring for his wife and all of the demands on him in various ways," said Lisa Smading, Assisted Living Administrator at Catholic Care Center. "Instead, he shows us daily that life really is what you make of it and how you live it, reminding us to stay engaged and enjoy living, however that may look for each of our situations."
Eugene Hock demonstrates what life can be like for someone who adopts a successful aging lifestyle by staying physically, socially and intellectually engaged, and involving himself in pursuits that bring meaning and purpose to life. Hock offers this advice to others, "Stay socially involved. Meet your neighbors and start a conversation – shared experiences connect us."