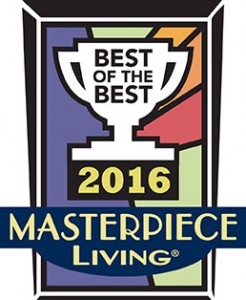 ABHOW's The Terraces of Phoenix was awarded the inaugural Best of the Best Award from Masterpiece Living. The Best of the Best Award recognizes truly outstanding practices and programs that are more comprehensive, systematic and measurable than typically found in the aging field. "Status quo" is never an option, and the Best of the Best Award recognizes that those in the Masterpiece Living network are continually striving to become more creative and more dynamic, inspiring the aging field that it can – in fact – push the limits of what is possible with age.
The Terraces (a Certified Center for Successful Aging) received the Best of the Best award because of their unparalleled fitness and fall prevention program. The fitness team at The Terraces includes Aneil Koerper, Lifestyle Director; Kaila Hassler, Fitness Coordinator; and Jay McKnight, Fitness Coordinator.
"The Terraces of Phoenix fitness program is the most comprehensive and creative that we have seen in the Masterpiece Living network to date," Teresa Beshwate, Director of Operations at Masterpiece Living said. "It has grown exponentially in the past nine years."
Key factors that differentiate The Terraces from programs offered by other organizations include:
• Programming that serves all levels of living
• Incorporating an often overlooked element of fitness – power training, along with strength, agility and balance training
• The ongoing measurement of outcomes that validate the program
• Programming that is financially self-sustaining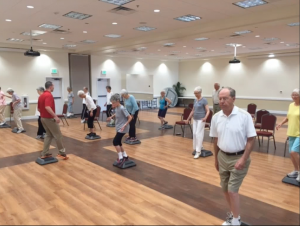 "The fitness team at the Terraces of Phoenix is always interested in what more they can do to better serve residents, and they love to share what they've learned with other communities." Beshwate continued. "This ongoing interest in improvement and generous sharing of best practices is what the Masterpiece Living network is all about."
The Terraces of Phoenix Executive Director, Tom Dorough, shared that receiving the award was an honor; but not a complete surprise because, "Aneil and her team have done great work in developing the physical fitness program on our campus … We have the most robust program in our immediate market."
Masterpiece Living congratulates the team at The Terraces of Phoenix, winners of the inaugural "Best of the Best" award.