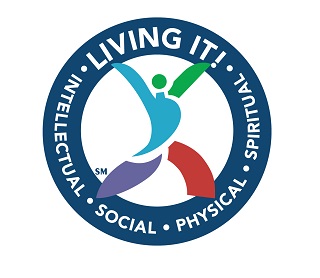 Masterpiece Living® (MPL) is a well-known authority in Senior Living for its successful aging initiatives and ongoing collaboration with nearly 80 organizations nationwide. This spring, MPL launched the network-wide Living It®, a four-week campaign designed to inspire and challenge people to try new pursuits in the four components of wellness: Physical, Social, Intellectual and Spiritual. Pursuits could include anything and everything from trying a new vegetarian recipe to learning about a culture different from one's own. Or, from volunteering at a local shelter to crafting a fictional story to read to others. This year, Plymouth Village (a HumanGood community), Someren Glen (a Christian Living Community), as well as Presbyterian Home at Williamsport and Ware Presbyterian Village (Presbyterian Senior Living Communities) all took home awards.
Plymouth Village was awarded Highest Blended Participation, with 48% total involvement by both employees and residents. Plymouth village is a Certified Center for Successful Aging (CSA).
Someren Glen was awarded for having the Best System for Tracking Experiences by creating SIPS Slips, which were used to measure pursuits in the four components of wellness by each participant. Someren Glen is a CSA.
Presbyterian Home at Williamsport took home the award for having the Most New Experiences by an Individual. One enthusiastic resident tried 190 new things within 30 days! (Congratulations, Mary Guthrie!)
Ware Presbyterian Village received two awards: Most New Experiences by a Community and Most Unique New Experiences. Collectively, participants tried a whopping 459 new pursuits – including a fully clothed pool plunge and cow milking!
"Trying new pursuits and trying everyday tasks in a different way creates new neural pathways in your brain," Senior Partnership Specialist, Amanda Baushke, said. "The Living It campaign encourages residents in all levels of living and team members [employees] to create new neural pathways in a social setting while having fun."