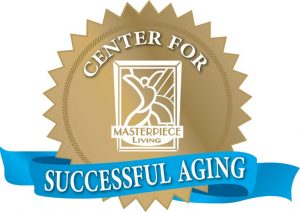 Masterpiece Living designated five new Centers for Successful Aging in 2019. Centers for Successful Aging (CSA) recipients have incorporated all of the criteria set by a team of longevity experts, to include: leadership trained in successful aging, data-driven decision making, active coaching and team member successful aging initiatives.
A landmark, decade-long study by the MacArthur Foundation revealed that 70% of physical aging and approximately 50% of mental aging is determined by lifestyle NOT genetics. The CSA designation recognizes communities that have applied this research with the most innovative cultural approaches which impact not only residents and team members but also extend to the local city or town.
Currently, there are only twenty-three CSA organizations nationwide. Among the new designations this year: Claridge Court (A Lifespace Community), Deerfield Retirement Community (A Lifespace Community), Longwood at Oakmont (A Presbyterian SeniorCare Network Community), Westminster Woods of Huntingdon (A Presbyterian Senior Living Community), and The Waterford (A Lifespace Community).
"Centers for Successful Aging provide a fundamental change in our view of where we will live and how we will spend our days when we're older," MPL President and award-winning author of Live Long, Die Short: A Guide to Authentic Health and Successful Aging, Dr. Roger Landry, said. "CSAs are regional centers of excellence and are a valuable resource for cities and towns who are struggling to adapt to a growing older adult population."
CLICK HERE for a list of all current Centers for Successful Aging.