Maximizing Potential and Putting Research into Action
Centers for Successful Aging (CSAs) fulfill the need for high quality successful aging service providers, and are regional destinations that implement innovative practices, both within their organization and for the greater community. These are destinations that empower residents and team members to maximize their potential by applying the latest research on successful aging and demonstrating measured results.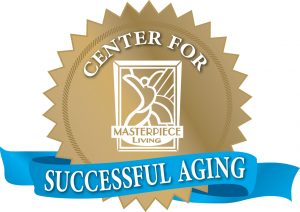 "Since the groundbreaking, 10-year-long MacArthur Foundation study on aging, we know that up to 70% of how we age is determined by lifestyle choices … not genes, luck or fate," Masterpiece Living President and award-winning author of Live Long, Die Short: A Guide to Authentic Health and Successful Aging, Dr. Roger Landry, said. "Centers for Successful Aging provide a fundamental change in our view of where we will live and how we will spend our days when we're older."
Launched by Masterpiece Living (a multi-specialty group who currently partners with more than 80 organizations nationwide in order to maximize the potential of older adults), CSA designation distinguishes the best successful aging organizations in the country. Currently, there are only twenty-one CSA locations nationwide. Among them, four were awarded CSA designation this year: The Barrington of Carmel (SQLC; Carmel, IN), Beacon Hill (a Lifespace Community; Lombard, IL), Friendship Village of South Hills (a Lifespace Community; Upper St. Clair, PA) and Peconic Landing (Greenport, NY).
CSA recipients have set themselves apart from other successful aging service providers by implementing rigorous, data-supported best practices that benefit older adults and team members while promoting a lifestyle of growth, social connections, purpose and resilience.
CLICK HERE for a complete list of current CSAs.