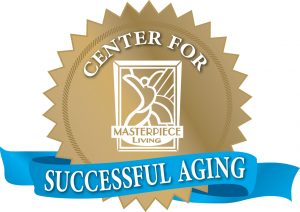 By 2050, an estimated one in five Americans will be over the age of 65, and as a society, we need to adapt to the growing older adult population. Furthermore, a landmark ten-year study by the MacArthur Foundation revealed that 70% of physical aging and approximately 50% of mental aging is determined by the lifestyle choices that we make every day. Utilizing this information, Masterpiece Living (MPL), a multi-specialty group who currently partners with more than 80 organizations in order to maximize the potential of older adults, introduced the groundbreaking Center for Successful Aging (CSA) in order to distinguish the best successful aging destinations in the country. These are organizations that have set themselves apart from all others by implementing best successful aging practices that promote resilience and benefit both residents and team members.
Currently, there are only sixteen CSA organizations nationwide. Among them, seven locations were awarded CSA designation this year: Acacia Creek, Edgemere (A Senior Quality Lifestyle Community), Plymouth Village (An ABHOW Community), Presbyterian Village at Hollidaysburg (A Presbyterian Senior Living Community), Quincy Village (A Presbyterian Senior Living Community), The Stayton at Museum Way (A Senior Quality Lifestyles Corporation Community), and The Terraces at San Joaquin Gardens (An ABHOW Community).
CLICK HERE for an entire list of current CSAs.