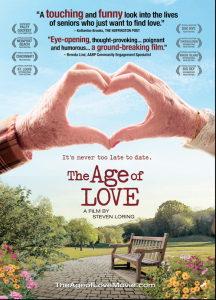 Masterpiece Living (MPL) will host a free, public screening of The Age of Love, a groundbreaking new documentary offering "a touching and funny look into the lives of seniors who just want to find love." (Huffington Post)
The film follows the comic and poignant adventures of thirty older adults from New York who sign up for a first-of-its-kind speed dating event for 70- to 90-year-olds. Fearlessly candid about their needs and desires, these WWII babies soon discover how the search for love changes-or doesn't change-from first love to the far reaches of life.
Screening of the film will take place at 7:30 p.m. on Tuesday, April 12 in the Confluence Ballroom at the Westin in Downtown Denver, as a way to promote new conversation about the hearts of older adults. All ages are welcome to attend and encouraged to arrive early.
Defeating stereotypes and linking generations, the film will open minds of all ages to the desires of our booming older population. Please Join Us for This Very Special Event!