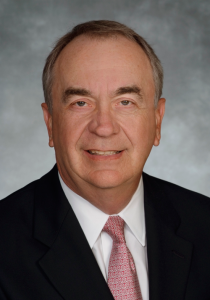 The Masterpiece Living Speakers Bureau is comprised of leading experts in the field of aging whose presentations are compelling, enlightening and inspiring. Masterpiece Living President, Dr. Roger Landry, and the Director of the Masterpiece Academy, Dr. Rob Winningham, are pleased to welcome Ron Guziak as the newest member of the MPL Speakers Bureau.
Ron Guziak has more than 40 years of experience in senior living and health care administration, specializing in providing leadership that stimulates innovation and growth for an organization. He spent those last eight years as CEO of Sun Health Services in Arizona. As a current member of the Speakers Bureau, Guziak's presentations are customizable, practical and thought provoking, and are geared toward board development, strategic thinking and employee engagement using Masterpiece Living core concepts. CLICK HERE to review a complete list of his presentation topics.
Ron Guziak joins other notable Speakers Bureau members, including Dr. Roger Landry, Dr. Rob Winningham, Jill Vitale-Aussem, Dr. David Gobble, and many more. CLICK HERE to review the list of Speakers Bureau presenters and topics.