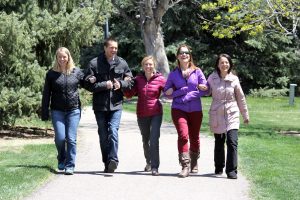 Masterpiece Living (MPL) is continually making strides toward a healthier aging experience! MPL recently hosted a record-breaking Walk to Wellness event. Inspired by research that links brisk walking with reduced body fat, lower blood pressure, lower cholesterol, and reduced risks of bone fracture and heart disease, Walk to Wellness aims to increase physical activity levels for all team members and residents within an organization and the greater community. By the end of this year's month-long initiative, the MPL network (which includes more than 70 organizations in 23 states) logged a record-breaking 359,797,979 steps or 179,898 miles – the equivalent of walking around the Earth seven times!
Noteworthy accomplishments include the Golden Sneaker being awarded to Masonic Homes of CA/Acacia Creek retirement community, for walking 40,869 miles (the most mileage of any participating organization), followed by the Silver Sneaker winner, University Village, at their heels at 15, 345 miles. The 2015 Walk to Wellness garnered high participation and camaraderie throughout the MPL network. Participants within each organization opted to walk individually or in teams, keeping logs to monitor their progress. They received walking-related information throughout the month, including inspirational messages, safe walking tips and incentives to promote increased physical activity.
Participating MPL partners also got creative with their W2W experience. Some invited local elementary school students to visit and walk with them (to which the students expressed their surprise that our older adults had no trouble walking a two-mile hiking trail.) Other communities found strategic ways to include everyone, regardless of whether they used a walker or wheelchair. Several participants took it as an opportunity to discover new nature trails, while still others brought their dogs out to walk with them.
"Walk to Wellness is a prime example of the ongoing commitment our Masterpiece Living partners show toward creating a culture of successful aging," Masterpiece Living President, Dr. Roger Landry, said. "It demonstrates that they offer more than a standard wellness program, and that they recognize the critical importance of creating an environment that supports growth and potential, building resilience and finding meaning and purpose."