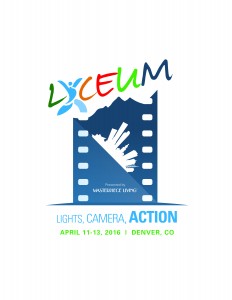 The Masterpiece Living Lyceum is an invitation-only gathering of Masterpiece Living partners, a place for sharing innovative ideas and non-traditional thought.
Aptly named after Aristotle's Lyceum, which served as early milestones in the development of Western science and philosophy, the Masterpiece Living Lyceum was created to inspire change in the traditional ideas of aging. This annual event focusing on successful aging is a motivational, educational and network building gathering that's much more than a conference.
This is unlike any business gathering or conference you've attended before. This one is fun…lots of fun because we mix with like-minded people who are part of a Movement to change aging and to help all older adults maximize their potential. This one is invigorating, for it is a veritable clearing house for best practices and creative approaches to successful aging.
The Lyceum goes beyond useful take-home information: it's about new friends and colleagues with powerful, tested approaches that help older adults age better, and building environments where that happens. The presentations are TED-like…concise, entertaining, and thought provoking. The Lyceum is a huge family reunion without the food fight. In 2015, the seventh annual Lyceum was attended by over 200 people, representing more than 75 partner organizations and representing 24 states.
Past keynote speakers have included:
Larry Minnix, President and CEO of LeadingAge
Dr. Bill Thomas, Owner, Idea Farm & Founder, Eden Alternative
Dr. Robert Kahn, co-author of the book Successful Aging and Professor Emeritus of the University of Michigan
Colin Milner, Founder and CEO of the International Council on Active Aging
Dr. Harry Moody, Author and Current Director of Academic Affairs for AARP
Dr. James Jackson, Professor at the University of Michigan and network member in The MacArthur Research Network on an Aging Society
David Schless, President and CEO of the American Seniors Housing Association
About Lyceum 2016
Our theme this year is Lights, Camera, ACTION!
…with emphasis on the ACTION!
The aging field, and our society, expects little of older adults. Therefore, their vast human capital is wasted. Not surprisingly, older adults often report a mediocre sense of meaning and purpose. We at Masterpiece Living have been talking with our partners for several years to explore the best ways to leverage human capital, and about the importance of going beyond the individual organization and into the greater community to fulfill a need. Essentially, this means getting the word out about what is possible with aging, and putting the human capital of older adults to use.
Lyceum 2016 will be held April 11th-13th, 2016 in Denver, CO at the Westin Denver Downtown Hotel. 
Note: Masterpiece Living Lyceum is open to Masterpiece Living Partners only. To find out more about becoming a partner, contact Clark Lyons at (561) 624-8797 or email clark@mymasterpieceliving.com
"Like" our Masterpiece Living Lyceum Community Page on Facebook to keep up-to-date about this event.