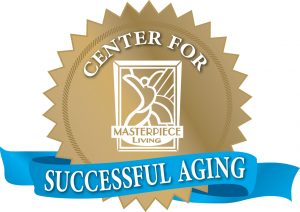 When it comes to providing a culture of successful aging, how does your organization stack up? A landmark ten-year study by the MacArthur Foundation revealed that 70% of physical aging and approximately 50% of mental aging is determined by the lifestyle choices that we make every day. Utilizing this information, Masterpiece Living (MPL) introduced the groundbreaking Centers for Successful Aging (CSA) in 2013 in order to distinguish the best successful aging destinations in the country. Never before had anyone applied Successful Aging research and utilized ongoing measurement tools to create a designation that clearly articulates what it means to be "best in class" among retirement communities nationwide. With the marketplace becoming increasingly competitive, and sophisticated consumers wanting the best aging experience possible, CSAs are setting a new benchmark for older adult organizations.
MPL is a multi-specialty group who currently partners with more than 80 organizations in order to maximize the potential of older adults. CSAs are organizations that have set themselves apart from all others by implementing best successful aging practices that benefit both their residents and team members and promote resilience. Currently, there are only 11 CSA organizations nationwide.
"Centers for Successful Aging provide a fundamental change in our view of where we will live and how we will spend our days when we're older," MPL President and award-winning author of Live Long, Die Short: A Guide to Authentic Health and Successful Aging, Dr. Roger Landry, said. "CSAs are regional centers of excellence that will be a valuable resource for cities and towns who are struggling to adapt to a growing older adult population. They have also taken on the responsibility of outreach for those aging in place, and will eventually be among those who bring about a change in public policy and the way we treat our aging population."
CSA recipients have incorporated all of the criteria set by a team of experts in the field of aging. These cultural changes are woven into the fabric of their community and include trained leadership and data-driven decision making, active coaching and the use of empowering language, community outreach and civic engagement, caregiver and family member support, physical adaptations to their environment to support successful aging pursuits, and multidimensional programming that includes intergenerational initiatives as well as resident and member-led events that tap into a collective human capital.
Among the currently CSAs are: The Buckingham at Houston and Querencia at Barton Creek (Senior Quality Lifestyles Corporation communities); Clermont Park, Holly Creek Retirement Community and Someren Glen (Christian Living Communities); ABHOW's Judson Park, Las Ventanas, Rosewood Retirement Community and Terraces of Phoenix; Clark-Lindsey Village; and Wesleyan Senior Living.