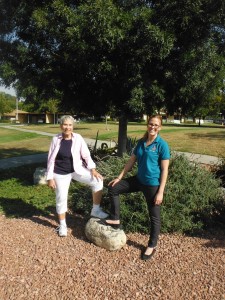 Think you could identify a Sycamore, Birch or Myrtle tree by sight? Thanks to the Tree Walk initiative by Plymouth Village resident Judy Bushnell and Fitness and Lifestyle Coordinator Candace Galusha, many Plymouth Village residents can!
Judy moved to California from Colorado, and while she was a tree expert in her former stomping grounds, she wanted to be able to identify the beautiful ones she discovered on the grounds at Plymouth Village (a MPL partner). However, when she discovered the outdated tree map at her community, an idea was born …
Candace Galusha was about to kick of the 2015 Masterpiece Living Walk to Wellness at Plymouth Village. "With the inspiration from Judy's idea," she said, "I made the kick off to research the trees around us, document them, update the tree map, create walking routes as well as create a tree book. Judy pays attention to details and is very efficient in identifying tree characteristics and research. We plan to have at least two routes researched and documented so that we can lead educational walking groups in the fall."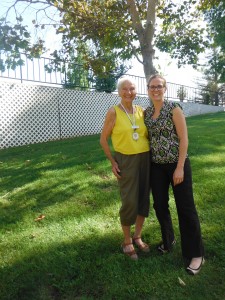 The idea is spreading as more people become interested in the Tree Walk, and volunteers spend time analyzing tree bark, leaves, seeds and characteristics by season to update their tree book with descriptions and pictures. To help further educate tree lovers, they will also soon have plaques created that will identify each tree. This is no easy task given that there are more than 52 tree varieties across forty acres. If all goes according to plan, there could be as many as five or six tree routes in the coming year.
Why is this initiative so important? "I'm always looking for ways to get people outside walking and spending time in nature," Candace shared. "It's also a great way to get people socializing as more people discover our Tree Walk. And, for me, there is a spiritual component to simply spending time in nature observing the features of a tree."
"This is a very active community," Judy added. "In addition to the physical and social aspects, we are all interested in learning new things and in the educational opportunity that our Tree Walk presents."