By: Danielle Palli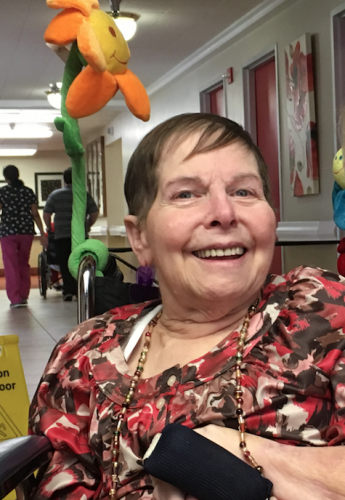 "Pass a kind word and a smile and you bless someone's life as much as your own."
We could follow Helen Henton all day collecting shareable nuggets of wisdom, such as the quote above. Helen, a long-time resident at Rosewood (a Human Good community), can be best described as an optimist, a cheerleader, and a part-time comedian. Sharp-witted and determined, Helen is an advocate of lifelong learning and keeping your brain sharp, regardless of age or personal challenges. Helen understands that 50% of our memory ability is determined by lifestyle choices.
"Never stop learning as long as you live," she told the Mosaic. "If you don't challenge yourself … if you don't step over boundaries and get out of your comfort zone, you can't continue to grow. You need to keep learning and growing forever and ever."
Helen – along with approximately 50 other participants – is a student of Brain Fit, a six-week brain training class that Rosewood offers four times throughout the year to every resident in every level of living. It is also open to the greater community. Students begin by taking a short cognitive function test to determine where they excel, and where there is room for improvement in areas such as focus, concentration and problem-solving abilities. Classes are then divided based upon scoring, with accommodations made for the visually impaired.
The class draws upon Masterpiece Living resources, to include Neurobics+, the Brain Health University Virtual Course, Dr. Rob Winningham's Cognitive Connection tools, as well as intellectually stimulating games and discussions. This year, Helen learned how to use specialized iPad Apps as part of the course. "It took a while," Helen said, "But I got it … still like pen and paper the best though … or maybe a typewriter!" She let out a boisterous laugh at how much technology has changed over the years.
Wendy Burnett, Lifestyle Enrichment Coordinator at Rosewood, told us, "Helen is our biggest cheerleader." Because of two strokes many years ago, Helen only has use of the right side of her body. I hear her tell people all the time, "If I can do it, so can you!" Helen, deterred neither by age nor physical challenges, replied, "If you don't mind, it don't matter!"
"Through Masterpiece Living, we have access to cutting-edge resources that you just can't find anywhere else," Wendy shared. "Residents get excited about these classes because they know that 50% of our cognitive ability is up to us."
"I think the idea of Masterpiece Living is wonderful," Helen added. "I am so excited to be a part of it."