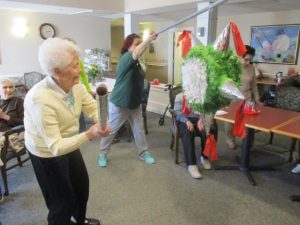 The Birches Assisted Living in Clarendon Hills, IL are Masterpiece Living partners who are actively  sharing what it means to live a successful aging lifestyle and are educating others through their new blog series.
They kicked off the 2017 series with an article from Masterpiece Living President Dr. Roger Landry. In "The Music of Our Lives," Dr. Landry explains how our lives resemble the music of a full orchestra, and aging well means paying attention to the four components of successful aging (Social, Intellectual, Physical and Spiritual) for a more harmonious life.
In "The Birches Challenges the Stigma of Aging Through 'Living It!'" Executive Director Jackie Sander explains that "Life doesn't stop once you reach a certain age. You can keep learning and growing in all areas of your life." Through MPL's "Living It!" initiative, residents and team members at The Birches are challenging themselves to try new endeavors in the four components of successful aging over the course of four weeks.
CLICK HERE to read more articles on The Birches blog.