Masterpiece Living's comprehensive database on physical, intellectual, social and spiritual health is helping older adults around the country grow, assisting organizations in improvement, distinguishing communities from local competition, and shaping public policy. The following is a glimpse of the state of the Masterpiece Living network with regard to specific factors that influence successful aging.
How do older adults you know stack up to these findings?
(Click photo to enlarge.)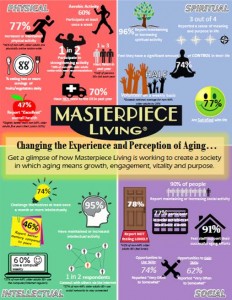 These findings are representative of over 2,900 residents/members who participated in the Masterpiece Living Lifestyle Review during 2015.