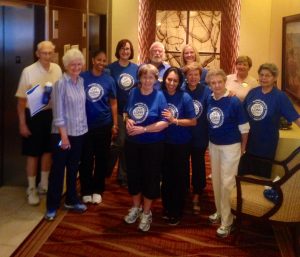 "We are advocates of successful aging and active living. It's what we stand for and what we've already been doing with Masterpiece Living," Lifestyles Director Amy Janak of The Stayton at Museum Way shared with us in a recent interview.
This month, The Stayton became the first retirement community in the state of Texas to be recognized as a Blue Zone Certified Worksite, thanks to the efforts of Amy, Lifestyles Assistant Traci Lehmberg, Executive Director Scott Polzin, and other Stayton team leaders. For those who may not know, Blue Zones are areas of the world where greater health and longevity are prominent – areas such as Sardinia, Okinawa, Costa Rica and Greece. The Stayton is joined by dozens of other regional organizations in the efforts of turning Fort Worth, Texas into a Blue Zone city. They will do so through wellbeing improvement initiatives that encourage workplaces, schools, restaurants and grocery stores to make small changes that will result in lower healthcare costs, improved productivity and create a better quality of life.
Similar to the "Ten Tips for Successful Aging" found in MPL president, Dr. Roger Landry's book, Live Long, Die Short: A Guide to Authentic Health and Successful Aging, Blue Zone sites incorporate the "Power 9 Rules." These include: moving naturally, finding purpose, de-stressing, putting family first, eating a plant-based diet, enjoying a glass of wine at night, eating until you're 80% full, forming strong social connections and making sure you've found the right successful aging tribe.
While the certification requirements were aimed at team members, The Stayton adapted their Blue Zone plan to include their residents. Residents and team members alike participate in plant-based cooking classes, walking groups, fitness classes and purpose workshops. Additionally, team members are encouraged to walk/bike ride to work, and have access to a Blue Zone specific parking area that provides a long walk to and from the office. They also participate in standup and walking meetings and are encouraged to take micro-breaks every hour to get up and stretch.
Masterpiece Living measurement tools, coaching strategies, successful aging messaging and special events were woven into the entire certification process. "We're so excited about this accomplishment," Amy said. "With it, we're well on our way to becoming a MPL Certified Center for Successful Aging … That's next."
Congratulations to everyone at The Stayton in becoming Certified Blue Zones Workplace!