By: Danielle Palli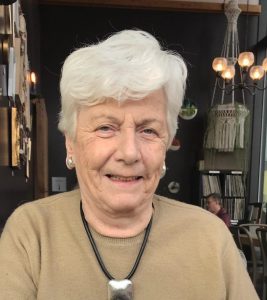 Dee Deeter has always lived a life of service. As a former RN, she spent two years in Japan as a surgical nurse in the Air Force. She remembers having saved at least three lives to date (though we suspect it was many more than this). She doesn't shy away from trouble. She looks for ways to lend a hand.
Recently, Dee learned that many residents in her community were having trouble paying their rent. One day, she happened to be rifling through a book of poetry she'd compiled from years of writing. She had it stashed in a drawer since moving into Someren Glen, and Dee was struck by an idea.
With the help of her husband, Jack, and residents Susan Lucern-Lawton, and Margaret Lindzback, she hatched a plan. Dee decided to publish her collection of poetry, which includes her reflections on the past and thoughts for the future. She titled it, Transformation: Prose, Poetry and Other Thoughts.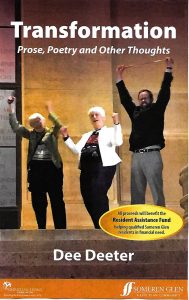 Margaret transcribed, Susan did the major editing, and everyone collaborated on what to include and the layout. Dee marketed and managed sales, and even held a book signing where she signed each copy. Her books have sold out, and the team has raised $1,135 for the Resident Assistance Fund so far.
The best part? Dee published her first book at age 87. Dee feels that Masterpiece Living inspires her to help people and give to those in need. "Masterpiece Living is a springboard to everything we do at Someren Glen," she told the Mosaic. "It keeps us involved, active, and our minds growing."