By: Dr. Rob Winningham, PhD
We have all heard about the evidence that the more we exercise our brains, the less likely we are to have problems with memory and cognition as we get older. It has been challenging for many people to find access to good cognitive exercise in the past. But now, anyone who has access to an iPad or tablet can download high quality cognitive stimulation activities. My colleagues and I recently offered an iPad class for older adults in a retirement community, and they loved it. We found the larger iPads often were preferred to iPad Minis, but the ease of use with these new devices made the class a lot of fun and very successful.
Here is a list of our favorite apps: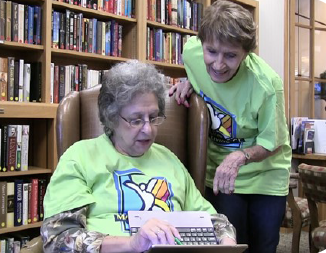 Fit Brains 
 Lumosity 
Tetris 
Sudoku2 
Memory Block 
Stroop Effect 
Visual Attention 
Brain Lab 
This Is To That 
Word Search+ 
Word Jigsaw 
Brain Challenge 
Chain of Thought 
In addition to using the iPad for brain games, it can be used to stay in contact with family and friends through video chat (e.g., Skype or FaceTime), email, and Facebook. It can also be used to help with a mindfulness meditation program, which has been shown to increase attention and concentration in older adults (e.g., try the app entitled Mindfulness Trainer). Of course, the iPad can be used to surf the Internet, watch movies, listen to your favorite music and easily create home videos. It is easy and relatively inexpensive to download books on iPads (or other tablet devices), and the font size can be greatly enlarged for those who have visual impairment. Consider getting an iPad that is cellular enabled if you don't have a good Wi-Fi network and signal available. In summary, it is clear that the iPad can be an excellent tool to maximize brain health and quality of life.