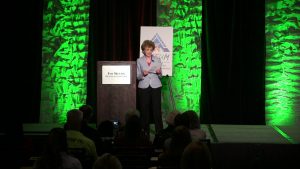 By: Dr. Roger Landry
Early Sunday morning on October 23, 1983 in Beirut, Lebanon and during the Lebanese Civil War, two suicide truck bombers struck the barracks of the multinational peacekeeping force, killing 241 US marines, sailors and soldiers, 58 French peacekeepers and six civilians. I was serving at the Air Force Headquarters Europe in Ramstein, Germany. For the next several days, our team assisted with evacuation and medical care of the injured.
So, when early this year, over 33 years later, I was contacted by a resident at Westminster Village in Dover, Delaware who wanted to speak to me about the event, I was more than surprised. Joan Muffler told me her son John, a 19-year-old marine, was killed in that attack. She wanted to hear my story. But mostly, she wanted to thank me. Imagine this magnificent Gold Star Mother wanted to thank ME!
Joan spoke at this year's Lyceum, and her stirring, generous words reminded us all of the power of working for the greater good, of the meaning of resilience, and the need for purpose. She has dedicated her life to helping veterans and military families. Joan has emphatically reminded us that we are indeed all connected. Thank YOU, Joan.