By: Cera Meintzer and Danielle Palli
Journaling Can Build a Bridge (Cera's Personal Story)
A good friend and I had pregnancies 12 months apart. They were second pregnancies for us both, we had first kids almost the same age. My friend decided to keep a journal about the first year of her son's life and the trials, tribulations, and joys of second-time babyhood. Little did I know I was the intended recipient of her journal. She wrote notes to me telling me I could get through some particular rough patch she was going through with her infant or her second child, or her marriage, should I have the same issues. After my son, Elijah, was born she completed the journal, and unceremoniously gave it to me. I was surprised and confused but she assured me I should read it each week. I soon understood this sweet gift to be a companion on my journey. Even though she was not right there with me the first year of his life, she was present each week as I read her entries and sweet love notes of encouragement, reminding me to keep my chin-up. I continue to keep this journal and look back through it with tears in my eyes as I reminisce about the warm love of my friend. Our sons are now 9 and 10 and while we live far apart from one another, her journal and our friendship, binds us all together.
Journaling is akin to talking with a good friend; one who never says a word but only listens, judgment-free. It's a safe place to set down valued thoughts, deep desires, and big despair. It can act as a historic record or a space to return to in moments of needed understanding. It also provides a sounding board to check the accuracy, credibility, and connection to a person's ideas and stories. And, most important, it can detail those moments of inspiration that we don't want to forget. Some of history's most famous visionaries kept journals … Leonardo de Vinci, Thomas Edison, and Frida Kahlo to name a few.
The Benefits of Writing
According to psychologist Barbara Markway, "There's simply no better way to learn about your thought processes than to write them down." Why is that? And, what other benefits can we expect from simply writing things down? It turns out that writing…
Strengthens the immune system
Reduces anxiety and stress
Leads to better sleep
Can help lower blood pressure
Helps us examine our thoughts and shift perspective
Fosters self-awareness and a greater awareness of others
Increases wellbeing and gratitude
Helps us define goals and track progress
Can help us understand our emotions and what triggers them
Supports better problem-solving
Helps us document history and preserve memories
Can be a social connector
Expressive and Transactional Writing
Two types of writing approaches backed by research include expressive writing and transactional writing. Expressive writing is jotting down thoughts and feelings about a situation without concern over the grammar or structure of words. Expressive writing has been shown to help overcome emotional inhibition, regulate emotions and break a cycle of excessive rumination. Transactional writing is letter writing to someone else or even to oneself as a means of deepening our understanding of ourselves and others. It has been used to help work through unresolved issues, and express compassion, empathy, gratitude and forgiveness.
Because Many a Girl's Diary Starts With a Boy… (Danielle's Personal Story)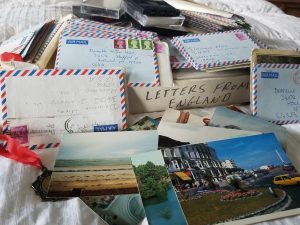 First, it was a series of diaries from about age fifteen through my college years. At one point, I was so worried my siblings would find them and laugh, that I developed my own alphabet, and wrote and read fluently in my made-up language. Then it was Live Journal (a pre-Facebook zone that was, at the time, the only place where you could get in a fight with your virtual best friend – whom you've never met). Later, it became the mindmap that is now my blog.
But that's not the interesting part…
When I was fifteen years old, my parents took us to Guernsey, in the Channel Islands. There I met a boy who taught me how to do the Fox Trot and Jive at a community dance. We shared an appreciation for the Monkees, and over the course of our trip, I learned why Mod fashion, skateboarding and Genesis were smashing. We only met up again once, several years later in the States, but we remained friends and pen-pals for the better part of nine years. Through that time, he'd patiently read through letters from the American girl dealing with mean girls, bullies at school, and a family who sometimes made questionable decisions. I'd read about the angsty boy from Merseyside who was stressed about exams, and sometimes fought with his parents (and his mates). We never judged one another, but instead offered unconditional support and an outside perspective on life. To this day, I still have a box in my closet marked, "Letters from England."
So, Why Now?
Now, more than ever, teachers, journalists, historians and psychologists are encouraging us to both keep a journal and stay connected. Even though most of us are still practicing physical distancing, one way we can connect with others is through the lost art of letter writing. And whether we are writing to a friend or writing only for ourselves, we can experience the benefits of working through our stress, of documenting what we've learned and leaving a legacy for future generations. Science has shown us that our memories can be unreliable, which makes keeping a journal that much more critical in retaining a historical account of our lives. When you look back on this time, how did you respond? What did you learn about yourself? What were you proud of, and what would you do differently? (There's still time.)
In fact, in preparation for this article, Danielle revisited those letters from England, inspiring a random Facebook message to her friend, now happily married and living in London, more than twenty years later: "I have a cornball idea … Can I write you a letter?"
Ideas and Tips for Getting Started:
Try journaling right before bed about the questions most intriguing to you.
Experiment with a journal that provides prompts; they can support out-of-the-box thinking and creativity.
Journal about what first strikes you when you wake up. Morning is a good time to journal about positives and goals for the day and week to come. Research from J.C. Pruessner (published in Life Science in 1997) discovered that anxiety is the highest in the morning when we wake and begin to think about the day ahead. Journaling can be part of the solution to a fresh morning start.
Create a series of theme-based journals, such as ones for gratitude, goals, inspiring events, travels, dreams, nature excursions, meditations, reflections, and emotions. "If you're like me and appreciate the beauty and aesthetics of many journals," Cera writes, "you might want more than one. I can't have enough beauty in my life."
Create an Idea or Think Book. "I tend to over-organize my life – which can be self-limiting, creatively," Danielle writes. "For me, I love the randomness of having a 'catch-all' idea book where I may jot down story ideas, sketch an image that's in my head, or brainstorm future projects."
Consider a friend or mentor you've lost touch with over the years. Try writing a letter of gratitude and telling them what their support has meant to you or what you've learned from them.
Write a letter to your younger self. What advice would you give with the wisdom you have today?
If letter-writing is not your thing, try recording your spoken words or simply adding a photo or photo album of your happenings on Facebook, along with a few notes about your life today. You could even create a collage from newspaper clippings. Get creative about how you might keep a record for future reference.
Poet and writer Allen Ginsburg writes, "to gain your own voice, you have to forget about having it heard." Here's to honest writing.
You might also like…
PART 1 of this series: Creativity & Finding Your Flow
This article was originally published June 30, 2020.
Note: We encourage readers to share Masterpiece content. However, please see our guidelines for attribution.