Content for
Healthy Longevity
Enhance your lifestyle experience with engaging content and programming.
A personalized pathway to healthy longevity for your lifestyle experience
Based on research-backed content and lifestyle-focused measurements, Masterpiece complements your lifestyle experience by providing the older adult with content and recommendations specific to their areas of growth and opportunity. Centered around six areas of focus that are crucial to healthy longevity, Masterpiece extends your value to the older adult with the content and tools to have the most profound impact on their path to wellness.
Content for Healthy Longevity
The older adult is looking to impact their longevity across many areas in their life. Through research, data and expertise, Masterpiece's content is delivered to each individual based on their unique path and areas for growth. Everyone's path is different and is impacted by six areas of focus that are critical to healthy longevity. These areas of focus are the backbone of Masterpiece's content. Masterpiece provides the tools to allow the older adult to navigate his or her own course with confidence that everything necessary to live a lifestyle of wellness and longevity is readily available.
Our Solution
With a holistic 360-degree approach, Masterpiece supports our partner's quest to appeal to the lifestyle conscience older adult.
With the older adult in the center, Lifestyle Programs, Team Member Development and Continuous Data come together to continually provide the content and tools to complement your lifestyle experience. Through our self-driven, online experience, each individual receives personalized content to impact their wellness and longevity.
Masterpiece continuously collects data and provides our partners with higher-level data and measurements your organization will benefit from.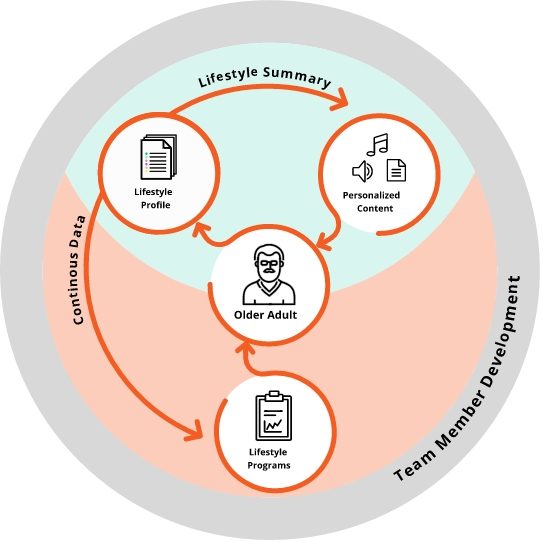 Older Adults Feel The Benefits
of a Masterpiece Partnership
Of older adults said the lifestyle is positively impacting overall health and wellbeing
Of older adults said the lifestyle of health and wellbeing was a key reason for selecting their community or program
Results
Masterpiece partners see the benefits of the partnership across many areas of their business.
What Partners Are Saying
"From a marketing standpoint, looking at the data, assessing that data, and understanding where we are helps us break that down for the individual to set goals and develop a strategic plan for residents to support their growth in all areas of healthy longevity,"
– AMY PAGANO
VICE PRESIDENT OF RESIDENT LIFE AND ADMINISTRATIVE SERVICES SALEMTOWNE
"Our leadership team is fully committed to supporting every team member, resident, and volunteer, as we enrich our culture of [healthy longevity] in partnership with Masterpiece. We are a catalyst for all people living well, regardless of age and consistency in care is critical for each resident."
- PENNY VITTORIA
ACACIA CREEK
"In knowing Masterpiece, I brought the idea of a partnership to the team, and we felt it could only make us better in terms of serving our residents and providing a higher quality of life."
- ROBERT J. SYRON
PRESIDENT AND CEO PECONIC LANDING